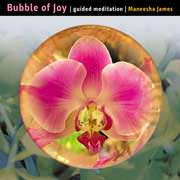 How often have you woken up at the start of a new day, or set out for work, feeling open, joyful and full of life – only to find hours later that someone or something has totally changed your mood?
This method helps you to become your own "emotional manager." You can create a joyful, nourishing inner climate that you can carry with you wherever you are. This climate also acts as a protective barrier to outside influences.

Let Maneesha James take you to a place within yourself, where your awareness can be free and where you are protected in your own Bubble of Joy.

A simple method to

• return emotional mastery to you
• change your focus from the negative and painful to the nourishing and
healing powers within
• protect yourself against the negative stresses outside you
• activate your inner healer

How to use this program: Find half an hour of uninterrupted time, make yourself comfortable, either sitting or lying down. Let Maneesha's voice guide you into this meditation.